---
GET YOUR TRACKS DONE
BETTER.
FASTER. EVERY TIME.
Have you ever felt frustrated at not being able to finish your Dance Music tracks to the required standard?
Do you struggle to convert your musical ideas from a simple loop into a full arrangements?
Then Finish More Music is for you.
This course will guide you through the obstacles you face, and introduce you to a devastatingly simple, yet effective workflow that will allow you to fulfil your potential as a Dance Music Producer
Finish More Music contains 50+ Pages of text and over 10 hours of video, plus downloadable content, which will take you through every stage of the process of creating the dance music you always knew you could...
From the initial musical idea, through to the finished arrangement, ready for MixdowN
---
Work through the Course at your own pace. No final deadlines for completing the course, and ALL future updates are FREE OF CHARGE
The Course comes with over 50 Pages of written content to support your learning
The Course is packed with over 10 HOURS of video tutorials, lessons and studio sessions.
---
COURSE BREAKDOWN
Finish More Music works in 3 main layers, as you follow Paul Nolan through his own production process, from initial composition to finished arrangement...
OVERCOMING OBSTACLES
Learn what is holding you back and causing you to fail to finish your tracks.
Most importantly, you'll learn how to overcome them...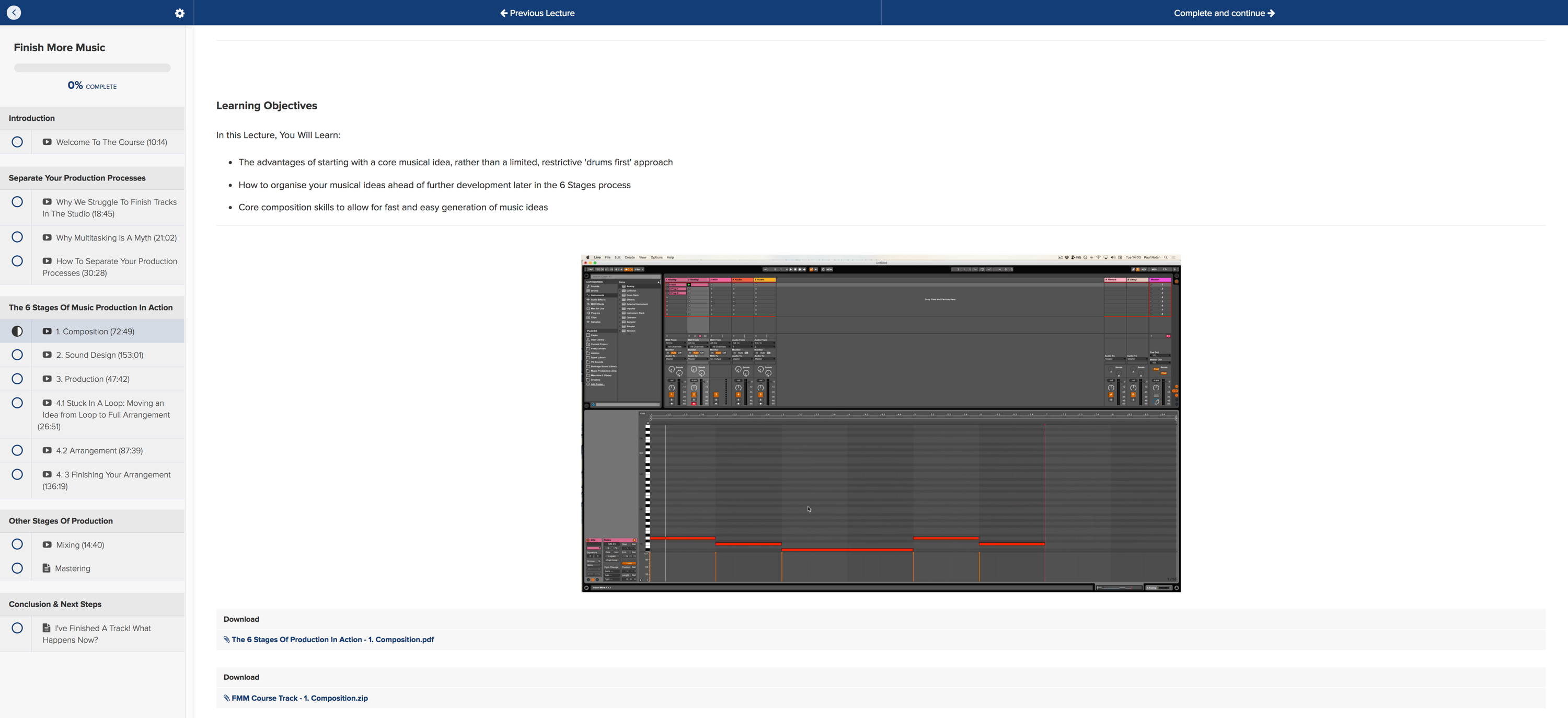 THE 6 STAGES OF MUSIC PRODUCTION
A simple, logical yet revolutionary workflow system, designed to optimise your workflow and fully harness your creative potential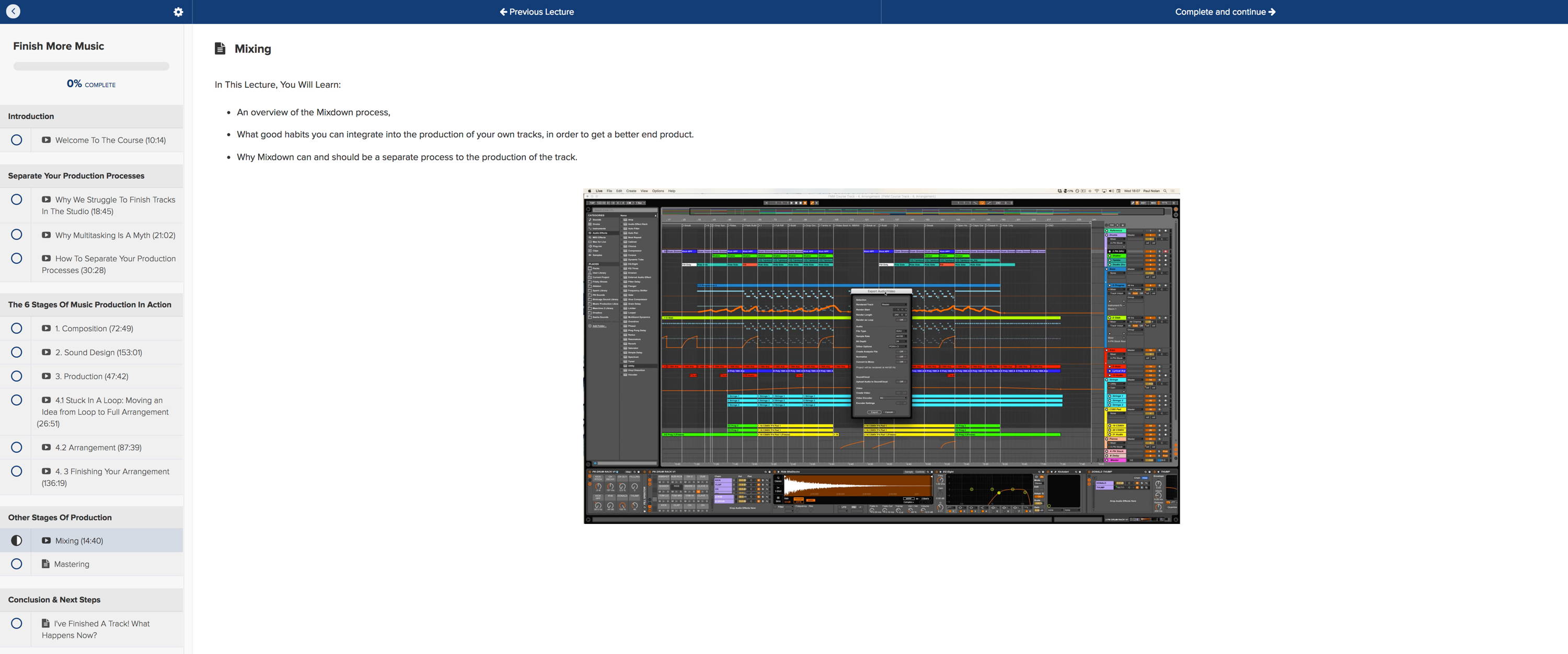 MIXING & MASTERING PREPARATION
What to do with your finished arrangements, to optimally prepare your tracks for professional standard Mixing and Mastering
---
WHAT OUR STUDENTS THINK OF FINISH MORE MUSIC...
Gio Guanche Silva (LA, USA)
"This journey is unbelievable! I'm completely taking the time to reorganise my entire library and workflow to get from A to B by using The 6 Stages Of Production"
---
Overcoming Obstacles
Why We Struggle To Finish Tracks In The Studio
Why Multitasking Is A Myth
Task: Overcoming Multitasking, Getting Organised
How To Separate Your Production Processes
Task: Calendar Organisation, Assigning Task - Specific Studio Sessions
Discussion - What is holding you back?
The 6 Stages Of Music Production - 1. Composition
The 6 Stages Of Music Production - 2. Sound Design
The 6 Stages Of Music Production - 3. Production
The 6 Stages Of Music Production - 4. Arrangement
4.2 Arrangement Part 1: Scenes & Session View
4.3 Arrangement Part 2: Live Arrangement With Ableton Push 2
4.4 Finishing Your Arrangement Part 1: Arrangement Editing
4.5 Finishing Your Arrangement Part 2: Automation
4.6 Finishing Your Arrangement Part 3: Contextual Sound Design
The 6 Stages Of Music Production - 5. Mixing
The 6 Stages Of Music Production - 6. Mastering
---
How Much Does The Course Cost?
Finish More Music Costs £350 - this includes free lifetime updates!
When Does The Course Start?
Whenever You Like! The Course is designed to be done at your own pace, and you can work on the course 24/7 & 365
How Long Does The Course Last?
There's no deadline for you to finish the course
How Long Do I Have Access For?
You have Lifetime Access to the Course, and all updates are included FREE OF CHARGE
What If I'm Unhappy With The Course?
If you get in touch within 48hrs of purchase we will offer a full refund.
Where Can I Get Hold Of The Course Content?
All course content and videos are available from the MYT Website, a link will be provided upon purchase
Can I Contact You With Further Questions?
Yes, please contact us at paul@paulnolansound.com
WHAT YOU'LL NEED:
Ableton Live (9 or 10)

A Basic Understanding of Ableton Live & How To Produce Dance Music (MIDI & Audio)

A MIDI Controller (Ableton Push 1 or 2 preferred, but any basic controller will also work)
---